Hello all. I'm Katy from ModlyChic, a personal style blog. Shelly has asked me to guest post my holiday wishlist here. To be honest, I don't have too many things I'm hoping for this Christmas season. So this wishlist is going to be focused around holiday party attire. Here's what I'm coveting this season.
1. This adorable Abigail necklace from GS Lillian is the perfect statement piece for the holidays. Slip on your little black dress, add this necklace and a great pair of heels and you're ready to go.
2. I am loving this blue wrap dress from Ann Taylor. The online shade is nothing like the bold cobalt color of the dress in the store window. Sure, a wrap dress is nothing spectacular but the color of this is show stopping - perfect for a casual evening holiday party.
3. Shimmer and shine in this multi sequin drape vest. The perfect little New Year's Eve item is just my kind of addition - nothing too crazy or out there, but just enough greatness to add shine.
4. Everyone knows I love animal print, so these leopard print booties are calling my name. Like seriously, calling out to me. Again, I can see them paired simply with a little black dress or a great pair of pants for the holiday festivities.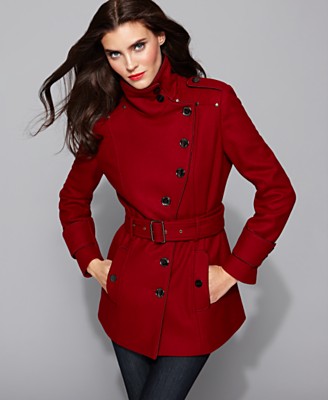 5. A great coat is so vital to the holiday season. What better than a gorgeous red coat with a belt and off-centered buttons?
Thank you Katy!
You'll definitely be the belle of the ball with a few of these items!
So, what are you wishing for this season???
Link YOUR list up on TOMORROW for a chance to win gifts for all of the girls on your list
{more details TOMORROW!!!}