30 for 30 outfit 12

I'm not the best thrifter. I usually go home empty handed, however I recently discovered the tie section and now it's my go to spot where I am almost certainly going to find a little success. These two ties color coordinated perfectly, and really, who says ladybugs and giraffes can't be friends?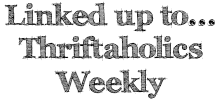 PS. Don't forget to sign up to WIN
this GS Lillian necklace
!!